Amy Godfrey Presents: Hand Me Down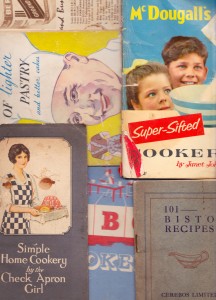 Amy Godfrey presents: Hand Me Down.
Passed on, leaving a trace of each hand, stained and marked by previous efforts, a plastic bag full of old cookery books as an inheritance. Hand Me Down explores the way that cooking is sedimented in bodies and minds by repeated doing, recipes are alive in our heads and hands. Trapped in a book or beamed from a screen, can someone teach us to cook without a shared experience, without being there to marshal and cajole us? Foodways that are lost through the industrialisation of production and cuisine remain only as long as their keepers are alive. Hand Me Down is on a mission to preserve, to capture in herself, in hands and head, some disappearing worlds.
Every experience laid down in the body like so many layers of sand, every memory held in the body, dormant until ignited by a sudden familiar smell… Come join us for a meal of remembrances! Hand Me Down is a paean to meals gone by – taste some memories and share the scents and flavours of your own in a mnemonic dinner. You are invited to bring one edible item or one ingredient that tells a story of a past moment for you. Take a seat, close your eyes and open your senses – stir up the sedimented secrets that sleep in your limbs and collapse the past into the present on a plate.
Curated and produced by: Silvio Palladino and Sorcha-Mae Stott-Strzala
//
– 6.6.12_Hand Me Down was featured on Le Cool London magazine
SOLD OUT
Pictures from the event: